The Ceili-Mor/Clare 34
Also see the Ceili and the Clare
Here are pictures of our first 2 Ceili-Mors. They are both made out of Koa with fluorocarbon strings. Their sound is extrordinary! Originally called The Ceili-Mor, it is now called The Clare and will accomodate folk gut strings.
This harp is the same shape as the Ceili, but built like the Cygnet and Swan with solid wood of your choice, a full stave back and a solid wood veneered soundboard. It was designed with the traditional Irish player in mind with a slightly narrower spacing. It is levered with Camac levers and comes with a case, a tuning key and a five year warranty. Weighing in at 21 lbs, it is small, light and easy to carry. It can be strung with Fluorocarbon or Folk Gut Strings. The Clare 34 is made with the same loving care that goes into all our Thormahlen Harps.
Below is a Clare in Walnut with a Cedar veneered soundboard. The sound is exquisite!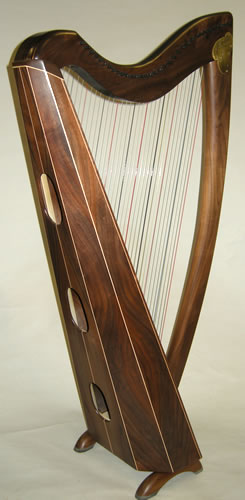 This Koa Deluxe Clare below has a Koa neck and pillar with a Koa veneered soundboard.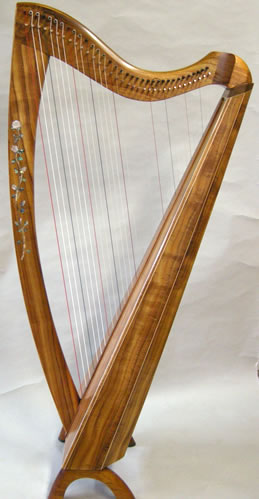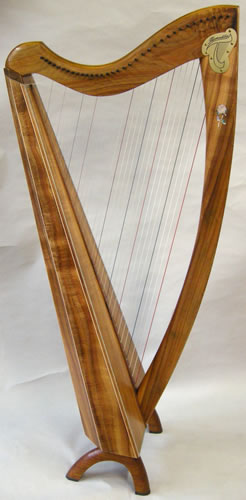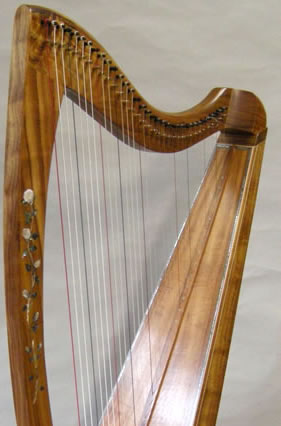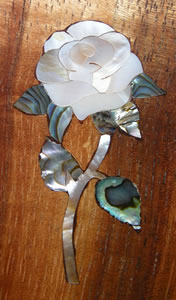 On the left the multi-colored Dogwood Vine adorns the front of the pillar, and on the right, is the Rosebud vine with the smaller rose on the other side.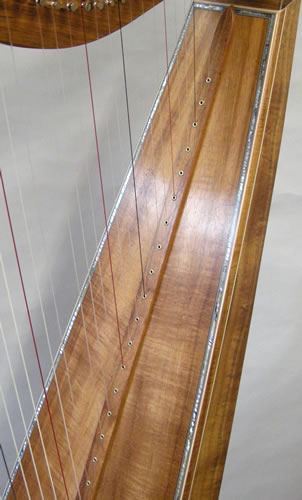 On the left is the Koa veneered soundboard with paua abalone inlay. On the right is the Spruce veneered soundboard with white abalone inlay.
The Ceili on the left is exactly the same shape as the Clare on the right.
Here are some sound clips of the Clare played by Annalee Foster who just won the 2010 All Ireland Harp Championship on her Ceili-Mor. I think you will enjoy these clips!
Falling Slowly (from the movie Once)
The Man from Newry McQueen's Hornpipe
Love Take Hold
is a U-tube video of Annalee playing her Ceili-Mor with the band Bryan Free and the Doxyhaunts
More info on Annalee can be found at: http://sixtysevenmusic.com/
The Clare with Fluorocarbon strings: $6395
Endorsements for the Ceili and Ceili-Mor and Clare 34