Prelude for Peace
You can see a performance of this piece on U-tube

This piece is now included as a duet in Under the Double Rainbow to make it more accessible to harp cirlces and ensembles.
Prelude for Peace is a beautiful ensemble for 8 instruments and vocals in 3 parts. Sharon Thormahlen and Annie Thormahlen Jenkins wrote this piece together on a vacation in North Carolina. The piece can be played entirely on harps. It is a great piece to play at your harp circle. It is not a difficult. There is a full conductors score as well as each individual part. The vocals do not need to be included in the piece. It can be done all instrumentally.
Here are the words to the vocal part:
Alleluia, Allelu, Sing a song from me to you,
Hand to heart and heart to hand, Alleluia.
Alleluia, Allelu, May peace flow from me to you,
Hand to heart and heart to hand, Alleluia.
Alleluia, Allelu, A gift of love from me to you,
Hand to heart and heart to hand, Alleluia.
The book is $20. Below is an excerpt from the conductors score which is 11 pages long (starting on page 4 of the book). The book also includes each part separately so they can be distributed to each individual.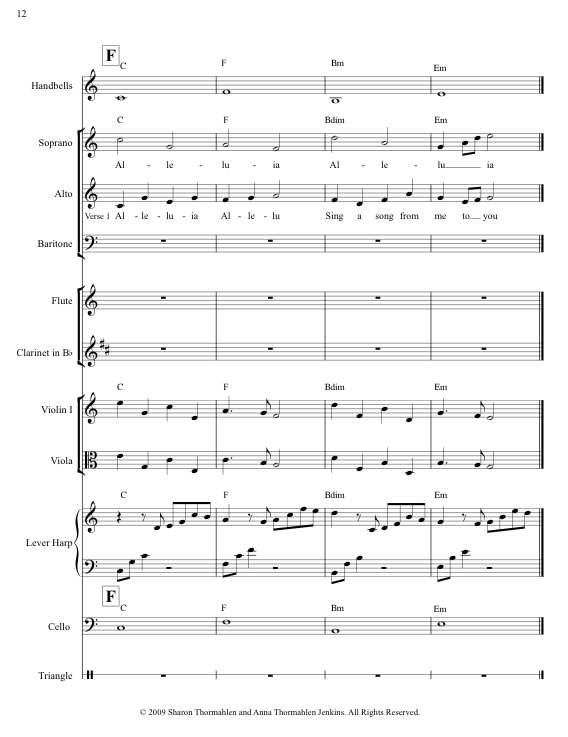 The book is $20. Now available with an audio CD accompaniment ($5).
I purchased you beautiful 'Prelude for Peace' to perform with a music group I belong to.We have just finished 9 concerts all over the place (all for charities) and mostly in churches.One was for amnesty international and another was for homeless and struggling youth. Your music was a smashing hit.
We didn't have a cello so we used a bass clarinet and we couldn't get any handbells (something we don't use a lot in Australia) so we had to use a Glockenspiel.I hope you don't mind me making do with these other alternate instruments.
Congratulations and thank you so much Noni (I am the one palying the harp)
prelude video
From Sharon: Annie and I are thrilled with your performance.We don't mind in the least that you were creative and made it work for you and the instruments that you have. In fact we encourage that!!
At the Big Sky Folk Harp festival this year (2009) about 12 of us under the conductorship of Laura Zaerr rehearsed this piece one time and performed it at the Saturday night Ceili. It was a lot of fun and proved to be a very doable and beautiful piece for a group to pull off!
"I spoke with the music director at the church where I direct the handbell choir, and your piece is scheduled for Thanksgiving Sunday as the combined prelude/introit. We will be assembling the full compliment of instruments minus the cello part which will be played on electric bass and doubled by the bells. I can't wait to start working on this! I've also convinced the music director to program your beautiful creation for the ecumenical Epiphany concert next January. I wish you much success with this beautiful creation!!" Thom Dutton
An update from Thom (Dec 2009): "The music [at the Wellfleet Congregational Church (in Massachusetts)] went over so amazingly well. On person told me that he usually sits through the prelude with his mind racing, but not today. With all the musicians and the beauty of the music, he was totally focused for the first time. Now it's on to the Epiphany concert with the same instrumentalists and a 50 voice choir." Here is the video.
This is such a gorgeous piece but at first glance one would think that a small ensemble could just not perform it.
On the contrary - The Memphis Harp Ensemble has performed it many times. The parts for other instruments can be played on the harp - or other instruments than recommended. AND there are apps for the hand bells. They used the app, "Melody Bells," but am sure there are others. They played it in very large dining room filled with people and were surprised to learn that the iPhone could be heard without amplification. There were times the phone was plugged into an amp.
The ensemble looked at and played your Prelude for Peace. They were very enthusiastic. One of our members has a daughter with Down Syndrome and for years has limitedly played the harp. She can count simple rhythms. Mom had bought her a set of bells like those used in classrooms. It isn't the best of tone - but she went home to practice and by Monday her mother tells me she has the bell part down pat. We'll be working on it some more at practice this Friday. I'll keep you posted on our progress.
Thanks, Barbara Christensen
Thanks to you and to Anna for the lovely "Prelude for Peace." It was performed at 2nd Reformed Church in Pella, Iowa, this past Sunday (November 15, 2009). There was a wonderful hush over the congregation, and many grateful comments were received after worship. We performed it with choir, two violins, viola, clarinet, cello, handbells & triangle.
Kris DeWild, Director of Music & Amateur Harpist
All I can say is, "Wow!" We played through Prelude for Peace today and the first words I heard were, "Exquisite!" Then "beautiful" and then "wonderful" and the praises kept coming. Because of the simplicity we were able to feel the peace that our music was providing. Extraordinary! One of the husband's showed up at the end and he had to sit and listen and he agreed. Thank you for giving us peace.
Barbara
Beautiful piece Sharon! I like how well the calm setting prepares the congregation for worship. This seems like a piece that any size of music ministry could prepare in a short time. Well done!
Janet
Your song, "Prelude for Peace" was used at my church a few months back as a lovely prelude for the new building dedication service. There were strings, brass, choir and harp involved and it was the perfect choice for all levels of ability while offering the correct mood for the service.
Mona Terry

You can see a performance of this piece on here and here


Go back to the Books,
or go to A Rose in Winter
The Singing Tree
Gossamer Gate
Sweepin' the Clouds Away
Dance Thru the Music
Where the Fingers Fall
Shalom
'Tis the Season
Waltz Upon a Time
Cabin Fever for Two
The Lone Egret
Moon Over the Mountain
Sunset on Seattle
Season's Greetings
Under the Double Rainbow
Melodías del Arpa