Prismacolor Pen Touch Up for your
Thormahlen Harp
Occasionally something happens to our harps and we find a scratch on the front, side or back. Sometimes we don't know how it happened. We may have scratched the harp with our nails or a piece of jewelry. It may have happened while putting the harp in the case or car or taking it out. It could happen while just carrying it around or you, or someone else, may have dropped something on it. I bet you have an interesting story about how your harp got scratched (some of which you would rather not tell!)
These Prismacolor marking pens are an easy way to touch up minor scratches on the finish of your harp. You can purchase one from us for $7.50.
We use a lacquer finish on our harps and it works great, but this may not work for all finishes. Please check with your harpmaker before attempting this kind of touch up on your harp.
Also, it is good to note that this is for small scratches and not for larger areas where there is bare wood. The pen will be much darker on bare wood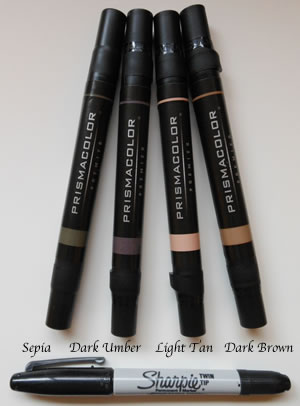 Having purchased a set of about 50 wood colored pens, we have found the following colors the most useful:
Sepia color works best for dark woods like walnut, rosewood and the walnut stain on our Serenade and Ceili harps.
Dark Umber is used for bubinga and the chestnut stain.
Light Tan works well for lighter woods like cherry, mahogany, light koa and the amber stain.
Dark Brown is a better match for the darker variations of mahogany and koa and for cedar soundboards.
Mocha Light is good for the natural okume wood in our Serenades and Ceilis
Brick Beige and Blond Wood both work very well for maple and spruce.
Use a Black Sharpie for black stained harps.
Here are some simple instructions for using the pens: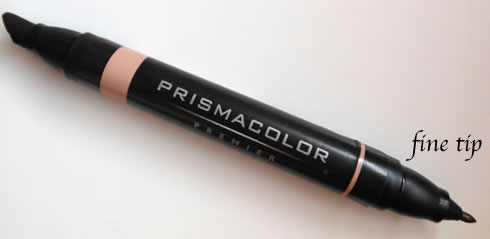 Test the pen color: When using these pens, we recommend using the fine tip end of the pen, and it is usually a good idea to test the color on a small section of the harp where the lacquer finish is not damaged. If the color looks wrong, you can simply rub the color off with your finger. However, when you use the pen on scratched or damaged wood, it will not rub off so easily.
Apply ink to the scratch and immediately rub it with your finger. Your finger will remove the ink that is next to the scratch, but the color will remain where the finish is scratched. Go ahead and do it a second time if need be.
Watch our video to see just how easy this is: http://youtu.be/-cHrbUyoJV4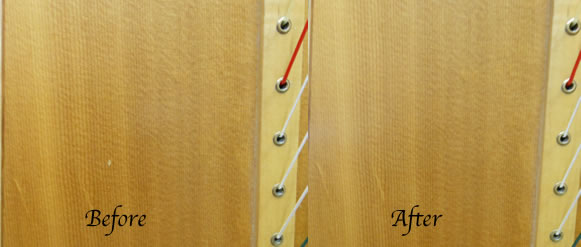 If you're trying to decide between the light tan and the Dark Brown on cherry, mahogany, koa or amber stain, try the Light Tan first. If it's not dark enough, then use the Dark Brown.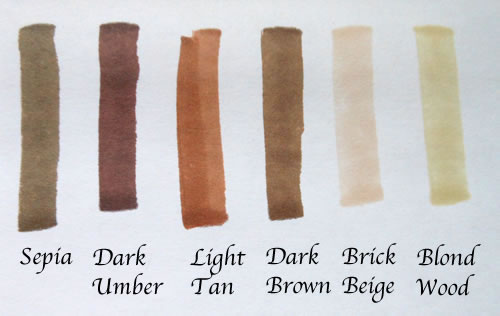 Please call or email to order the pens you need. Each pen is $7.50 and you can buy them all or just one. Although we think this is a great way to touch up your harp, we are not responsible for any mishaps that you may have with these pens and your harp. If you don't feel comfortable or capable of accomplishing this task, you can bring your harp to a harp conference and we will do it for you or you can have your harpmaker do it for you. Please watch the video before performing this on your harp. http://youtu.be/-cHrbUyoJV4
"Thanks, Sharon, for everything. The scratch cover pen worked really well!"
Annie