ORDERING
You can order a harp by one of these three ways:
Call: (541)753-4334
Email: harps@thorharp.com
Snail Mail: Thormahlen Harps, 1876 SW Brooklane, Corvallis, OR 97333.
ORDERING HARPS
To discuss your harp order call us at 541 753-4334 or email us at harps@thorharp.com. We'll be happy to talk to you about your order. To help you organize your thoughts you might want to take a look at our details page. It points out some of the variables on the harps.
It takes about 6 weeks to build a harp from start to finish. If we don't have what you want in stock, you can place your order by email or phone. We will schedule an approximate delivery date, which is usually within a 2 month waiting period.

We ask for a $1000 deposit when you place your order. The balance is due when we string your harp. This is about 3 weeks prior to shipping.
Shipping is estimated at $600 to anywhere in most of the lower 48 states, $650 to Alaska, Hawaii, Maine, Florida, and Canada. However, with that said, shipping costs are ever changing and with orders being taken so far in advance, we are not guaranteeing the shipping costs, they will be determined at the time of shipment. We ship all over the world, so or email us for a quote. We have shipped to Singapore, Italy, Israel, Germany, Ireland, the Netherlands, Korea, and Australia.
Methods of payment:
Visa, Mastercard, and Discover and American Express
For credit card payments, we will add 3% to cover credit card fees
Checks, Cash, and Money Orders
Our Guarantee/Warranty
Your Thormahlen harp is guaranteed for 5 years to be free of defects in workmanship and materials. If a problem arises, it will be repaired free of charge. This guarantee does not cover shipping costs and does not apply to accidental damage, normal wear and tear, broken strings or damage due to alteration, or radical changes in humidity or temperature.
Shipping your harp

Speaking of shipping, you might like to know how we ship our harps. We use what we consider the best trucking companies in the United States. They handle each piece individually, and don't use conveyer mechanisms that often push packages around in undesirable ways. We ship about 3-6 harps a month.

When Dave packs up a harp, he starts off by putting it in the case and wrapping large bubble wrap around the entire harp. He then builds a cardboard box that exactly fits the harp's triangular shape. He puts Styrofoam in the top and bottom of the box and builds a lid for it. Then he builds another entire box with a lid. It is held together with packing tape. The harp is protected on all sides by at least 4 layers of cardboard and on the front and back by 2 layers. And don't forget the Styrofoam, bubble wrap and harp case. The trucking company representatives have been very impressed by this shipping package. In over 20 years of shipping, we have had less than a handful of accidents with any damage occur. The shipping companies were very cooperative in these few cases.
When you receive your harp, you'll want to unpack it so that if you ever need to use the box again, you can. Here is a page to help you with that. Unboxing a harp.
COME VISIT OUR SHOP AND SHOWROOM
We would love to have you come and visit us! We'll give you a full tour of the shop and you can play all the harps we have in stock. We are located in Corvallis, Oregon, about 45 miles north of Eugene, 90 miles south of Portland (1 1/2 hours), and 4 1/2 hours south of Seattle. Call or email us for more specific directions and to set up an appointment to make sure we are here and the harps are tuned.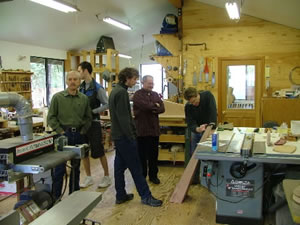 Our harps are for all sizes of harpists.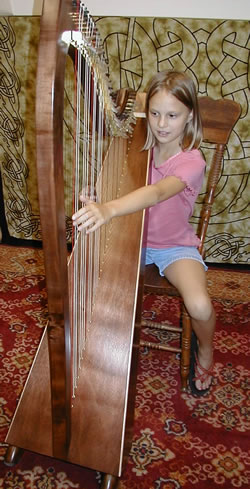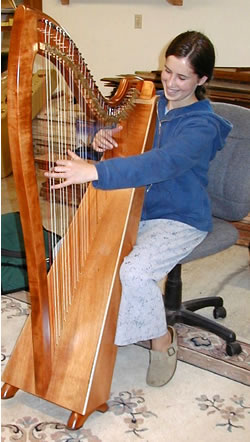 Shown are 2 Serenade Harps in Walnut and Amber Stains.

You can find music books written for beginners and intermediate players. Check them out.