The Walnut Harp
Walnut is a rich dark brown wood with beautiful grain lines running throughout.
We are lucky to get our Walnut and Maple wood locally. We often have first choice of the lumber that comes out of the mill. The mill owners usually call us when they get particularly beautiful boards.They know what we like.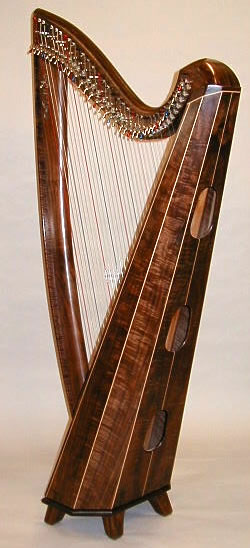 Walnut combined with cedar veneer offers a beautiful dark compliment to the dark walnut wood especially when trimmed with a contrasting wood like maple.
The string rib can be light or dark as seen in the pictures above and notice the inlay around the soundboard and on the pillar of the Walnut harp in the photo on the left.
Above are some beautiful Walnut harps with either a cedar veneer or spruce veneer over the spruce soundboard to give you the option of a dark or a light soundboard. Also notice the harp on the right has 2" feet and the harp on the left has 4" feet. If you'd like shorter feet on your harp, be sure to mention that to us and we can do that free of charge. The 4" feet are standard.
This is a close up of the top of the neck resting on the soundbox. This Knee block is our newest improvement.
Notice the Camac levers on the left and Lovelands on the right.
The Piano pin block, which adds strength to the neck is stained to match the walnut harp neck. The metal name plate also adds strength to the neck and pillar joint.
To make the harp neck, Dave takes a piece of wood that is like the wood that the harp box is made out of and splits it down the center. He opens it up and puts the piano pin block in between, like a sandwich, with the bread being the harp wood and the piano pin block being the cheese or whatever. He glues it all together and there you have it. A gorgeous, strong harp neck.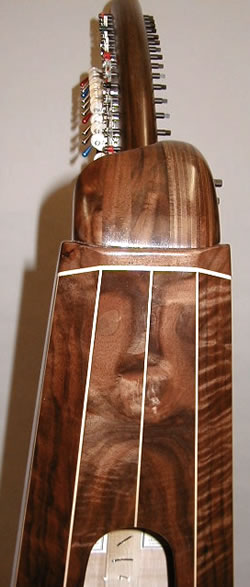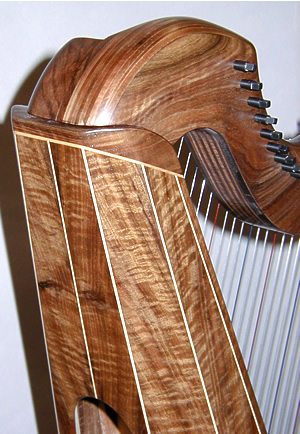 The backs of these Soundboxes show the beautiful wood grains that can be found on some of our Walnut boards.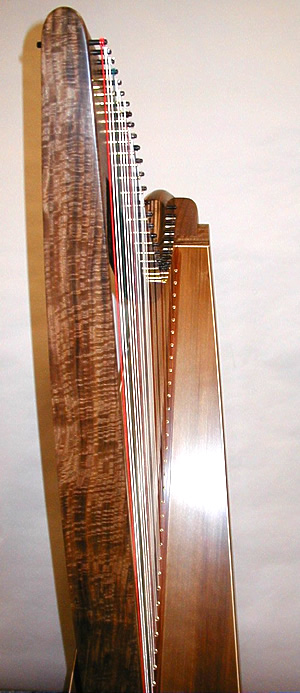 This walnut T-brace shows the horizontal "curl" characteristic of some Walnut boards.
This gorgeous pearl inlay accents the Walnut pillar very nicely.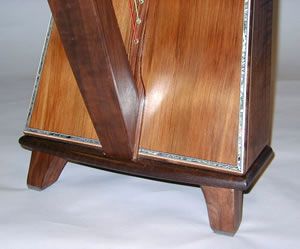 Notice the rubber on the bottom of the feet of both the Swan and the Cygnet, which helps to keep the harp from slipping when playing on an uncarpeted floor.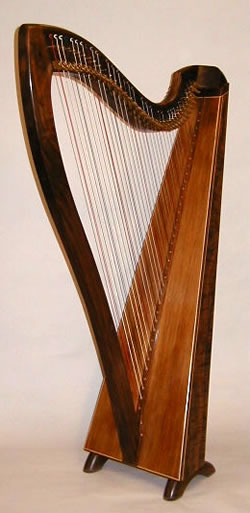 The Walnut Cygnet
For a lightweight harp.
Some of the Walnut woods above might be considered deluxe and there would be an extra charge for it. If you're interested in premium Walnut, let us know. We can show you what we have by way of a private webpage. There is a $100 minimum for looking.
See the Walnut Deluxe
Other woods to check out: maple, mahogany, cherry, bubinga, koa
Or go back to the models, woods or the instock page.