Deciding the wood and harp model:
If you've gotten this far, you have probably already been on the models page, so you know something about our harps. Some of the things for you to think about in ordering your harp are the amount you would like to spend, and the shape, style and sound of the harp you would like. You can cruise through the pages on wood to find out more about the different woods we use and their qualities, and you can call us to discuss the options. Please don't feel like you have to figure this out on your own. We are totally willing to spend time with you on the phone to help you figure it out. After you read through this page, just to get some ideas of options, please do call us with any questions you have. We'd love to talk to you. (541) 753-4334. (You can call us before you read through this page!).

Overview of harp options:

Specifications include:

1. Choosing the woods we use to make your harp (we can do this with email pictures and although it does cost a little extra, can be well worth it)

2. Deciding on the kind of strings you want on your harp (for Swans or Serenades: folk gut or nylon and for the Ceili: folk gut or carbon fiber)

3. Choosing any inlay that you might like on the pillar or around the soundboard

4. For Serenades or Ceilis: Stain color, Semi Staved or Flatback, Binding or Basic

Details of your harp:
After figuring out what harp model you have decided on and the kind of wood that you want, here are a few minor details that you might like to choose.

Soundboard veneer (option for Swans, Cygnets and Clares only)
On the left is the light spruce veneer and on the right is dark cedar veneer. This is strictly cosmentic. The veneer doesn't affect the sound of the harp significantly. We sometimes have light cedar veneer. No extra charge on any of these options.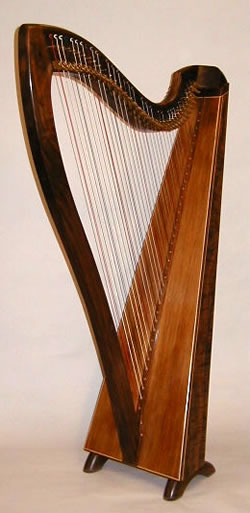 Soundboard String Rib (option for Swans, Cygnets and Clares only)
On the left is the blond string rib and on the right is dark string rib
The photo below shows a Koa Deluxe with Koa veneer. This is $500 extra.
This harp also shows the soundboard inlay. $1000
The Feet (option for Swans only)
You'll see the old style feet that we have been using in the picture on the left and the new feet in the picture on the right. The new feet will shave at least a pound off the weight of your harp and we feel they are more stable than the old feet. We reccommend them. See more pictures here.
The String Rib (option for Swans, Cygnets and Clares only)
Above you will see the 4 combinations of soundboards and string ribs. From left to right: Spruce with a maple string rib, Spruce with a Rosewood string rib, Cedar with a maple string rib and Cedar with a Rosewood string rib. Basically you are choosing whether you want a contrasting string rib or not. No extra charge on either of these options.
Neck (option for Swans, Cygnets and Clares only)
If your harp is going to be maple or cherry, we would leave the neck natural, as shown in the photo of the maple Cygnet on the right. If you are getting Koa, Mahogany, or Walnut you might like to look at the 2 options below. The 3 photos on the left show the maple piano pinblock has been stained to match the harp wood. On the right, the 3 photos show it left natural. Again, no extra charge on either of these options.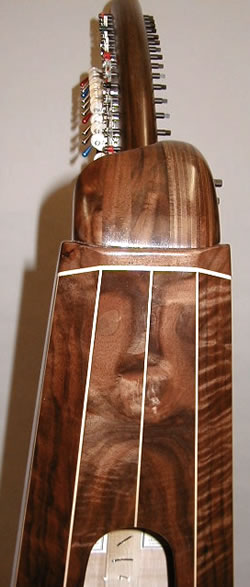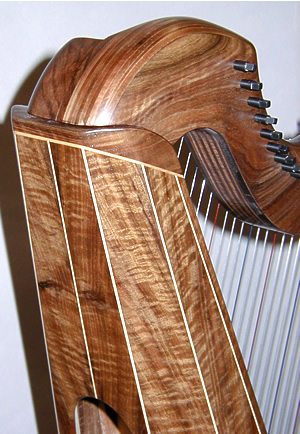 Some other options to think about:
Do you want any inlay? Check out our inlay options page for some beautiful abalone inlay for your harp. From small inlays of herons, roses or celtic knots to more elaborate vine inlays, the possibilities are numerous. Let us know if you see something you'd like on your harp.
Do you need a tuner? If this is your first instrument, you probably don't have one of these and you will most definitely need one to keep your harp in tune. See the Tuning Your Harp page for tuner options.
A shoulder pad for your case makes a big difference if you carry your harp often. It not only pads your shoulder but makes the harp easier to carry. They are $15.
Have you thought about getting an extra set of strings? It's really a good idea because if you break a string and don't have a replacement, the fun's over. Sometimes (most often) strings will break when you're not even playing, like in the middle of the night. (See our string tying page on our website.)
We have had some requests for cloth harp covers. Here is a link for some very nice ones made by sisters Julianne and Coralie. They cleverly call them jackets, gowns, and tunics.
back to the ordering page