Artist Earl Newman
Earl Newman does the cover art work for all my books. He lives in the small mountain community of Summit in Oregon, the same beautiful town our assistant, Tommy, lives in. He has been drawing and silk screening for 50 years. His posters have appeared at Jazz Festivals and Art Shows all over the US. A short history of Earl is at the bottom of this page.
Here Earl is hard at work at my kitchen table on my book 'Tis the Season. I watched him start with a blank piece of paper and turn it into a beautiful drawing including a wreath, pinecones, ice, snow, stars, ribbons and holly and ivy greenery. Oh, and of course, there's a harp in the drawing too. This was all in a matter of 20 minutes! We grabbed the wreath equipped with pinecones and ribbon off the porch and hung it on the chair as a model, I cut some holly and ivy off the bushes from the side of the house, (lucky for me we have them growing there) and I gave him a photo of one of our harps which he's holding in his hand in the photo on the left. On the right he is working on Waltz Upon a Time which is a collection of 3/4 time tunes.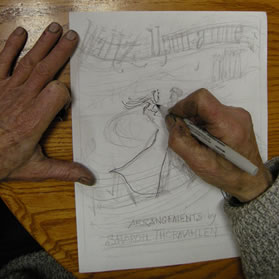 Here's Earl working on "Shalom" (on the left) and Waltz Upon a Time (on the right)
Mt. Hood, Artwork and Silk Screen by Earl Newman
(This print was used as a format for Moon Over the Mountain book cover)
I have had this Earl Newman print for more than 20 years. It is Mt. Hood, near Portland, and was used as a poster for a Festival at Oregon State University in 1984. I was fortunate enough to snatch it up never knowing that one day Earl would be drawing the covers for my books.
Earl's beautiful drawings for the covers of my books:
The Original books
Holiday books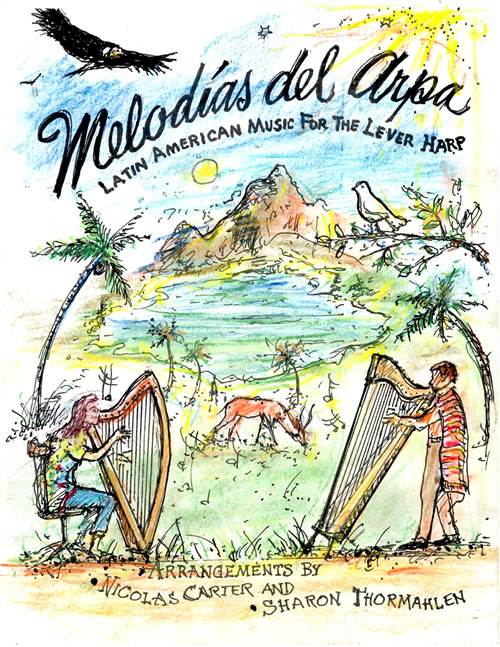 Traditional Tunes books
and coming soon:
Duet books
A little more about Earl:
In 1960, Earl came to Venice California from Boston, Massachusetts, with a wife and two kids in a '55 Chevy station wagon, in a quest of a future. It was the right place at the right time. In 1972, he and his family moved to Summit, Oregon, and thirty-five years (now nearly 50 years) later, he is still a self-employed artist.
Through a medium of silk-screen, known as serigraphy, he reproduces his designs about 100 at a time. He says it's like having 100 canvases on which to experiment, using different colors of papers and inks, and blending the colors as he goes. No two prints are alike.
He makes posters for the Monterey Jazz Festival in California, the Abbot Kinney Street Fair in Venice, the Oregon Shakespeare Theater in Ashland and for Oregon State University in Corvallis. He also has a booth at the Oregon Country Faire in Venita, Oregon every July (second week).
The Smithsonian's Division of Musical History in Washinton, DC has recently acquired a complete collection of his numbered/signed edition of Monterey Jazz Festival posters dating back to 1963.
To see some fascinating video about Earl, check these 2 out. Earl, in 2020, is now 90 years old and going strong!
This one is an interview mostly based at the Oregon Country Fair telling about his move from Boston to Venice Beach in the 1960s.
This one is a recap of all the posters he has done for the Monterey Jazz Festival since 1964.
Earl and the movie "We Bought a Zoo":
Earl Newman has recently (2012) played a part in the new movie "We Bought a Zoo" starring Matt Damon and Scarlett Johansson who are about to purchase and rehabilitate the Rosemoor Wildlife Park in California.
In the film's restaurant scene, there are 2 posters. One is of a tiger and the other is of a zebra adorned with pink flamingos. Anyone who knows Earl will recognize these posters as his handiwork.
Here's how it happened.
The set designers discovered two intriguing prints from the long defunct Jungleland hanging on the walls of the Stage Coach Inn Museum in Newbury Park, near L.A. Originally opened in the late 1920s, it was renamed Jungleland when 20th Century Fox purchased it in 1956 and for 12 years it housed the animals who worked on the sets.
During it's thriving years, a young Earl Newman living in Venice Beach was commissioned to create the 2 posters for the park that caught the eyes of the set designers. They tracked Earl down to ask to buy the rights to the artwork. Earl instead offered to create two new posters for the movie.
While doing the artwork, Earl accumulated some extra 2'x3' posters to give away but asks that you make a $100 donation to a non-profit organization.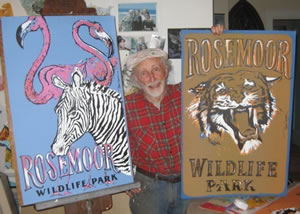 We were able to get one of these posters by making a donation to the Environmental Defense Fund who believes in prosperity and stewardship combining science, economics and law to take on the most urgent environmental threats to the climate, oceans, ecosystems and people's health.
So the door prize for the Ohio Harp Gathering 2012 is Earl Newman's poster of the zebra and flamingos along with a Sharon Thormahlen music book with an Earl Newman cover and a polar bear plushy from the EFD.
Back to Books page