Waltz Upon a Time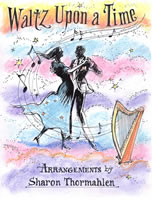 For international sales, please email me.
A pdf is available for this book. Please email me.
Waltz Upon a Time is a collection of wonderful contemporary waltzes, mostly from the New England area dance scene. I love these tunes and think you will too. They fall really well on the harp. There is a list of the tunes at the bottom of this page.
There are dynamic markings and some fingerings included. I went with the largest print I could get away with and keep most of the tunes to 2 pages.
The book is $20 and can be accompanied by a digital audio CD for $5.
Enrichez Vous Audio MP3
Here is a list of the tunes in the book:
Enrichez Vous
Sunday River Waltz
Chance Creek
Emily's Waltz
Nancy's Waltz
Hopkin's Waltz
Grandma Rebecca's Favorite
Waltzetude
Winter's Waltz
Josephine's Waltz
Midnight on the Water
Franconia Waltz
The Lovers' Waltz
Ashokan Farewell
Far Away
Margaret's Waltz
Below is a picture of Jay Ungar and Molly Mason (taken by Beth Stockdell) who wrote 2 of the tunes in this book (The Lover's Waltz and Ashokan Farewell). Beth brought her copy of this book with her to a concert so she could get their autographs.
Here's what people have said about Waltz Upon A Time.
Thank you so much for your Waltz Book! We forgot to get the mail yesterday until about 10 pm and it was a great surprise. I took it with me to Kline Galland Home this morning and played Sunday River Waltz, Ashokan Farewell, Franconia Waltz, and Enrichez Vous. I talked to them about waltzes and feeling the 3 beats. A few people were sort of humming along! It's a great book. Thanks!
Anna Jenkins
Just want you to know how much I am enjoying your beautiful waltz arrangements. I can almost, slowly and choppily, sightread them. I'll be playing the lovers waltz at my daughter's wedding in October. This book is a treasure.
Jill Scherer

Go back to the books,
or go to another book page listed below:
A Rose in Winter
The Singing Tree
Gossamer Gate
Sweepin' the Clouds Away
Dance Thru the Music
Where the Fingers Fall
'Tis the Season
Shalom
The Lone Egret
Moon Over the Mountain
Sunset on Seattle
Season's Greetings
Under the Double Rainbow
Fiddlin' Around on the Harp
Melodiás del Arpa
Beautiful Dreams for Twin Harps
Beneath the Pines
Ordering information:
All of these books are available directly from Thormahlen Harps. If you don't want to order through PayPal, no problem just email me or call me (541 753-4334) and I'll work up the invoice for you. You can pay with Visa, MasterCard, American Express, or Discover.
For international sales, please email me.