Tis the Season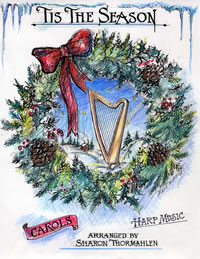 For international sales, please email me.
A pdf is available for this book. Please email me.
This is a book of traditional Christmas Carols that I arranged for the harp. These easy arrangements are suitable for beginners and intermediate players, although interesting and fun for any level player. You could learn all of these tunes in one season. Songs include: O' Little Town of Bethlehem, Deck the Halls, Silent Night, Celtic Carol, It Came Upon a Midnight Clear, The Holly and the Ivy, What Child is This?, Away in a Manger, God Rest Ye Merry Gentlemen, O Come All Ye Faithful, and The First Noel. Tunes are in F, C, Am, G, Em and D.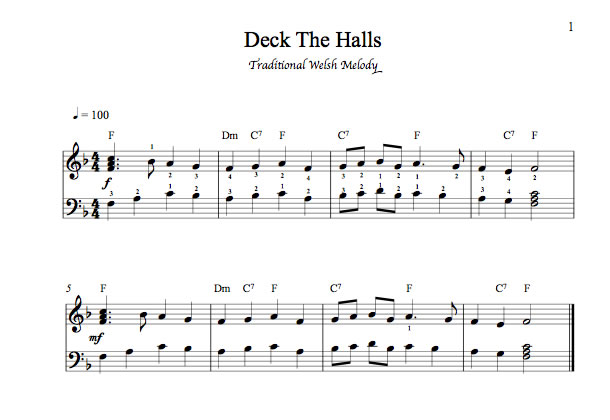 The book is $15. Now available with an audio CD ($5).
Here's what people have written about Tis The Season.
I have really enjoyed your "Tis The Season" arrangements - They are very elegant, nice to read and easy on the optically challenged. I played a few of them for my co-workers this week and they really enjoyed them as well. Alice Cover
I recently picked up your new Christmas book. It's delightful and I'm enjoying playing your arrangements. Jim Mosher; Oboe, English horn, Recorder and Folk Harp
I played your arrangement of 'What Child is This.' Thanks SO MUCH for making your arrangements available – they are easy to learn and elegant to play and listen to. Karma Threet
I really enjoyed your Christmas book and ended up playing 'Away in a Manger,' 'God Rest Ye Merry, Gentlemen,' and 'It Came Upon a Midnight Clear' numerous times, including the first two at church and the last regularly (from memory) at the hospital. By next Christmas my goal is to have all of them memorized. Ann Jenkins
The arrangements are excellent!! This is a very good book. You have come a very, very long way!!!! Mary Radspinner (Afghan Press Publisher)
I am so excited about your Christmas book! I have needed this for years. Finally someone who knows how to put together lovely arrangements that are not too difficult to play and memorize! Peggy Glenn
I just want to tell you how much I am enjoying your new Christmas book. I love it! The arrangements are delightful and simple but elegant. I think of you while playing the pieces. It makes them just that much more special to know the arranger. Kathi Holt
I really like "O Come All Ye Faithful" on the Reigning Harps website. I like the way you arrange. It makes sense to me and it's pretty. Jan Kingston
This review appeared in the Winter 2005 issue of The Folk Harp Journal: This new collection of 11 traditional Christmas tunes is playable for late beginner to early intermediate players. These arrangements are thoughtful and pretty, featuring a creativeness, which provides 'something different'. Good fingerings are included, along with chord symbols, a wonderful learning and improvising tool. Lever changes are clearly marked, as are some helpful placings. Special features include: syncopated rhythms, glisses, P.D.L.T. and etouffe. Keys include F, C (Am), G (Em), and D. Time signatures include 3/4, 4/4 and 6/8. God Rest Ye Merry Gentlemen switches from 4/4 to 6/8 and back to 4/4 again. Highly recommended for anyone! Denise Grupp-Verbon, Folk Harp Journal
I've been working on your arrangement of 'Away in a Manger' and just wanted to let you know that my teacher, who is quite picky, loves the arrangement, and I just thought I'd let you know :) Laurie Southworth
I would also like to recommend Sharon's book 'Tis the Season that focuses on the more traditional carols rather than songs from the pop genre that are in Season's Greetings. (Of course, it's nice to have some of each.) I specifically like 'Tis the Season because it includes a lovely arrangement of O Little Town of Bethlehem; this one doesn't often appear in lever harp books because of the accidentals, but Sharon makes it very playable. Miranda Rensberger
If you'd like to be added to this list, just email me with your comments at: harps@thorharp.com
Go back to the Books,
or go to another book page:
A Rose in Winter
The Singing Tree
Gossamer Gate
Sweepin' the Clouds Away
Dance Thru the Music
Where the Fingers Fall
Shalom
Waltz Upon a Time
Cabin Fever for Two
The Lone Egret
Moon Over the Mountain
Sunset on Seattle
Season's Greetings
Under the Double Rainbow
Fiddlin' Around on the Harp
Melodías del Arpa
Beautiful Dreams for Twin Harps
Beneath the Pines
Valley of the Dragon
Ordering information:
All of these books are available directly from Thormahlen Harps. If you don't want to order through PayPal, no problem just email me or call me (541 753-4334) and I'll work up the invoice for you. You can pay with Visa, MasterCard, American Express, or Discover.
For international sales, please email me.