Rosiee Said in 2002...
Thormahlen Harps is one of the top harp companies in the world. They produce beautiful harps. Dave Thormahlen, my dad, has been building instruments for 20 years. His wife and my mom, Sharon Thormahlen, plays one of her husband's (my dad's) harps and absolutely loves it.
And now about me. I'm going into 6th grade and I'm 11 years old. I love reading books and writing stories. My favorite color is green and my favorite animal is a rat. My initials spell R.A.T. (Rosiee Aimee Thormahlen). I sing in the Heart of the Valley Children's Choir and do modern dance. The thing I want most would be a dog, but I can't get one because my mom doesn't want one, and we would have a food chain: a dog, a cat, 2 rats and 3 fish. That picture of me is when I was 6 years old, so I look nothing like that now.
Now Rosiee in 2004...
That WAS me, but I somehow not anymoret. So you don't go off this page thinking: " oh... what a cute little 11 year old!", here's an update:
I'm 12 years old now, going into 7th grade, my favorite color is still green and I'M FINALLY GETTING A PUPPY!!!!!!!!! She's a Yellow Lab named Sunny. I'll put some pictures up someday. We no longer have rats or fish so the only problem now is kitty. She will FREAK when we bring home Sunny.
I am still in HVCC (Heart of the Valley Children's Choir), I take modern dance and now I play the drums and guitar. See my cool drum kit and my electric guitar (down there). And my new puppy Sunny.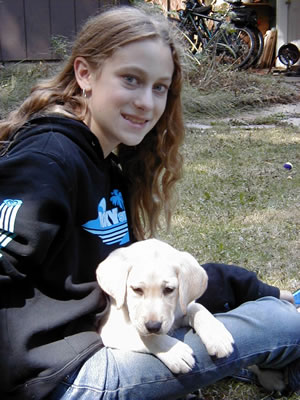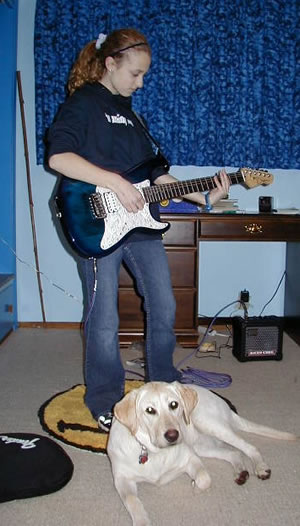 Update to 2012...
Home from college for Christmas break with Arlo (head up) and Sunny (head down). I still dance, although now it's West Coast Swing. I knitted my scarf and I love to write.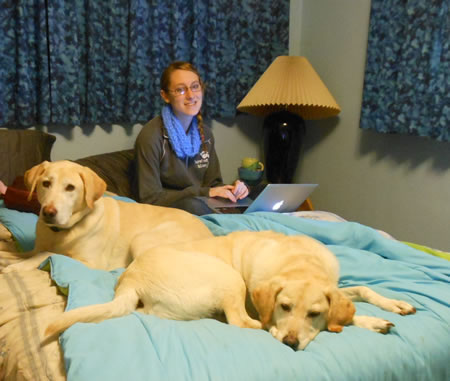 To see me swing dance, check this out: https://www.youtube.com/watch?v=AjCikKejLu4
https://www.youtube.com/watch?v=bFMN8hVOLmU
Update 2020...
Rosiee is now an adult living on her own. She no longer dances West Coast swing, nor does she play the guitar or the drums. She is a published author with Scholastic books going by the name of Rosiee Thor. You can purchase and read her book Tarnished are the Stars on her website.

Thanks for reading about all of us. Now you can go on to the Levers page.
Thormahlen Harps
| 1876 SW Brooklane Corvallis, Oregon 97333 | (541) 753-4334 |
harps@thorharp.com