Sharon Thormahlen
My musical career began at the age of 12 when I saw my cousin's husband playing the guitar. I said to my mom, "I want to learn how to do that." She got me a guitar and I took lessons. I was most interested in folk music and soon learned to figure out chords to the songs that I wanted to sing.

In 1981, I played in a duo called Sweet Harmony. Later in 1987, I played bass in a band called The Swing Beans with Dave on mandolin, another Dave on violin, and "Lentil Bean" on guitar. We all sang, traveling all over the Northwest as part of the Oregon Arts Commission, and we had a blast.

In 1992, our daughter Rosiee was born. We weren't ready to end our Swing Bean
career yet, so we took a nanny with us, and for 2 years continued to play gigs all over Oregon, California, and Washington. We put out 2 albums: Groovin' in the Garden, available only on tape, and Dessert First, available on tape and CD. I wrote about half of the songs on both recordings. (See our Music page for more information on these.)
Also in 1992, we began attending the International Society of Folkharpers and Craftsman (ISFHC) harp conferences. Perhaps some of you remember Rosiee as a baby in the lower exhibit room at the San Diego Conference. By 1996, in Tacoma, I was inspired to learn to play. Rosiee had just started going to school full time and it opened up the time for me to start taking lessons with Laura Zaerr. Some of you may remember Rosiee in Tacoma giving away pebbles as you went into the concert hall one night.
What a life change playing the harp has made. I began taking on more and more responsibilities with Thormahlen Harps. In September of 2002, I completed the Music for Healing and Transition Program (MHTP). I work in the hospitals, nursing homes, and for hospice. It has opened up a whole new world for me.
I have published 19 music books, some of which are of my original compositions written on the harp and some are of arrangements of traditional tunes. (See our Music page for more information on my books.)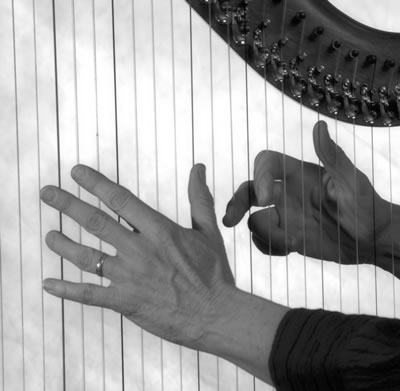 My duties at Thormahlen Harps include answering the phone, customer service, ordering materials and supplies, stringing the harps, keeping the books and playing the harps! One of the things I love most about working at Thormahlen Harps is getting to be intimately involved with every harp that goes out of here and getting to know our customers.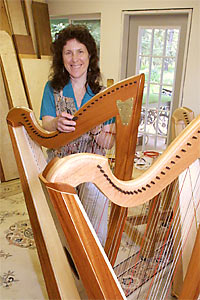 Stringing day is my favorite. The harps coming out of the shop and into the studio are wonderfully new and beautiful. I put on a variety of new and favorite harp CDs and spend the next 4 hours or so stringing up and tuning the new harps. I tune them daily for the next 2 weeks making them ready for Dave to lever and ship out. I also love going to conferences, and playing the harp whenever I can. Dave and I are playing together these days, he on mandolin, guitar, and banjo with me on harp. We are putting out a new CD which you can read about here.
Dave and I live on a quiet rural road close to town. This suits us very well, because
not only do we have the advantage of a country feel to our home, we are close enough to town and other activities to ride our bikes wherever we want to go. We have big conifer trees around our house and a garden out in front that often gets neglected when we go away over the summer. We have blueberries, raspberries, an Asian pear tree, and cherry tree. We love to go backpacking, sailing, and cross country skiing. Our daughter, Rosiee, graduated college, has a job in Corvallis, lives on her own and is a published author with Scholastic books.
Here is more information about our duo that we call thorharpdotcombo.
Something fun I did once was to sit for an painting class at the art center here in Corvallis. Check out the scene.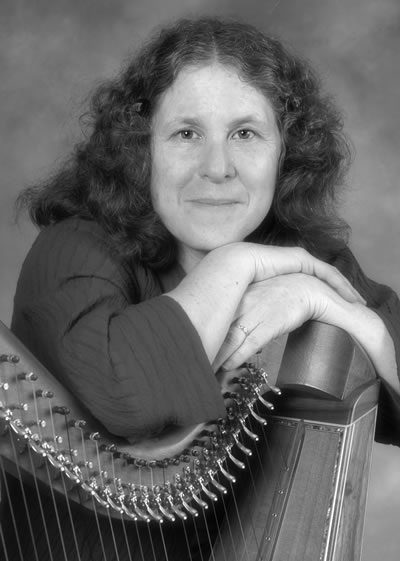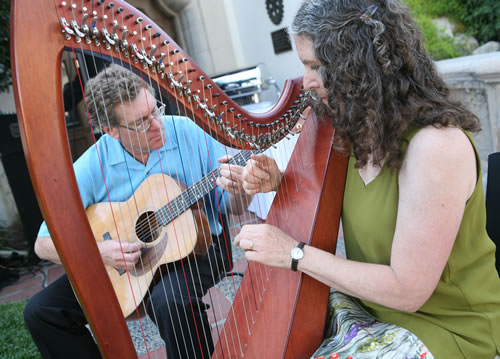 Sharon and Dave also do Workshops.