Dance Thru The Music-A Beginner's Set List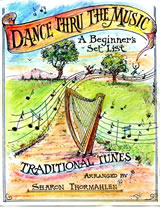 For international sales, please email me.
This book is a collection of English, Irish, Welsh, Scottish and American tunes arranged to the ability of the newer harp player. Tunes include: Southwind, Brian Boru's March, Suo Gan, Country Gardens, Parson's Farewell, Oh, Susannah, Oh, Shenandoah, The Shearin's No' For You, Down by the Sally Gardens, All Through The Night, Skye Boat Song, Morning Has Broken, Gander In the Pratie Hole, and Carrickfergus. The book also gives you a page of information about each tune that you can share with your listeners.
The book is $15. Now available with an audio CD accompaniment ($5).
Below is an excerpt Country Gardens from the book. I hope you enjoy it.
Country Gardens Audio MP3
Here's what folks are saying about Dance Thru the Music:
"I just had to drop you a note to tell you how much I'm enjoyinh Dance Thru the Music! I've been trying yo play the harp for about 8 years (to build those neural pathways!) For whatever reason it's been a real struggle. But not long ago I pulled out this book and sat down to see if I could play any of the songs and, by golly, I found that I could play several of them passably! Thanks again, Sharon, for arranging music that those of us who struggle can enjoy playing." Noreen Ward, Elkhart, Indiana
"I am amazed, I can really play these tunes!" Jenny Swanson, Oregon
"Sharon's new book for beginners is full of lovely arrangements that are much more interesting than the usual beginning fare, including some extended harmonies and interesting rhythms. I'm not a beginner myself, but I very much enjoyed just reading through the book for my own pleasure. Anyway, I'd buy the book just for the beautiful cover, like all her covers." Kathy Chanik, Virginia
"I received your new book this past week, and it is really delightful! I love the cover - it is so colorful and interesting,
and goes so well with your previous books. Congratulations and Job Well Done!" Beth Kolle, Washington
If you'd like to be added to this list, just email your comments at: harps@thorharp.com
Go back to the Books,
or go to A Rose in Winter
The Singing Tree
Gossamer Gate
Sweepin' the Clouds Away
Where the Fingers Fall
Shalom
'Tis the Season
Waltz Upon a Time
Cabin Fever for Two
The Lone Egret
Moon Over the Mountain
Sunset on Seattle
Season's Greetings
Under the Double Rainbow
Fiddlin' Around on the Harp
Ordering information:
All of my books are available through Thormahlen Harps. For direct orders (not using Paypal), please send the listed price per songbook plus $4 shipping for 1 item, add $2 shipping for the next item and $1 for every additional item after that. Send your order to Thormahlen Harps, 1876 SW Brooklane, Corvallis, OR 97333. Or call us at 541-753-4334 for Visa, MasterCard or Discover purchases. Shipping costs are slightly different when ordering through Paypal.
For international sales, please email me.