Sunset On Seattle
For international sales, please email me.
Sailing is a favorite pastime for Dave and me. We sail a little 26 foot Shock Endeavor sailboat on Fern Ridge Resevoir near Eugene, Oregon. We have sailed twice in the San Juan Islands, once in the Caribbean and most recently in the waters of the Puget Sound with my student, Becky, and her husband, Al, on their 34 foot sailboat named Halona. These trips inspired the cover art work and many of these tunes
The tunes in the book are organized in the order of key signatures starting with Eb and ending with G. Some of the tunes are more simply arranged than others with more elaborate arrangements. The chord symbols above the staff are suggestions for accompaniment not necessarily an analysis of the notes in the measure. The metronome markings are also just suggestions. Play at your own pace. A digital audio CD can be purchased to accompany this book.
The tunes are:
The Liminal Bell
Carolina Sunset
Waltz Upon a Time
Sunset on Seattle
Halona's Waltz
Habanera Cats (with Jory Aronson)
Tourner à Trois (Paul Machlis)
Music Box Lullaby* (with Dennis Harris)
The Dragon King (revisited)
Dreamcatcher
The Emerald Forest
Windy Ridge
The Lost Banjo* (with Paul Nestor)
Lullaby Waltz * (with Suzannah Doyle)
*These tunes were written by friends of mine and I had a large hand in arranging or helping to compose them. I fell in love with the tunes and wanted to include them in the book. I know you will enjoy them too.
Here is a preview of one of the tunes. This is the first A part of the tune, I hope it will entice you to want the rest of it:
Here's what people are saying about this book:
I started to learn "Carolina Sunset" yesterday. I LOVE THIS TUNE! Thank you Sharon for writing and sharing it. Becky Szymanski
I really enjoyed playing through the entire book. As always, there are a number of gems. So many of my favorite harp tunes come from your books that I have lost count over the years. Sunset On Seattle is a wonderful book and an excellent addition to your growing collection (and mine :-). Congratulations! Jan Dromlewicz
I REALLY like Waltz Upon A Time! So hauntingly beautiful that I don't want to stop playing it. Christine Sauer
I am writing to let you know that I purchased your book (I also have several of your other books, too), "Sunset on Seattle". I love it...you write just for me and my level. I will be adding several pieces from this book to my repertoire. Great job...Blessings. Ann Licano
Picked up your Seattle book at SEHW and love it like all of the rest of them! My students particularly love your waltz book! Cabin Fever is quite a hit with my ensemble and we use Lone Egret as well. Deette Bunn
Just wanted to say I have been playing 'Carolina Sunset' and love it so much (we have actually seen many of them over the years). Jill Scherer
The first tune in the book is The Liminal Bell. Here is a pickture of my friend's daughter, Caiti, ringing The Liminal Bell at Shands Hospital in Florida.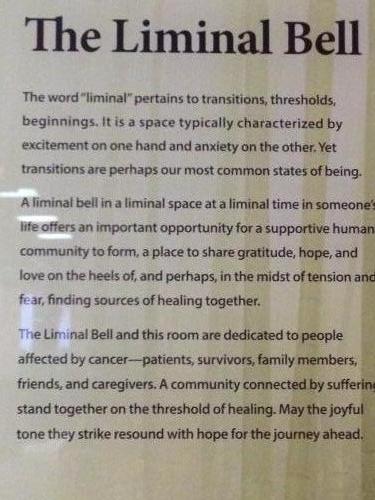 I don't know Mike Hodges, but here he is ringing the Liminal Bell at Shands Hospital in Florida:
https://www.youtube.com/watch?v=z2X23a2CUis
The Carolina Sunset on the outer banks where that tune was born.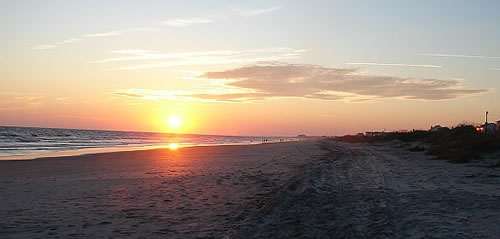 Here's a picture of Sunset on Seattle from our sailboat.
And here's Dave and I playing Sunset on Seattle at the Marylhurst Handmade Instrument Show: https://www.youtube.com/watch?v=MPU_kkvQefI
Halona, our home for the week, with Al and Becky. I'm holding the harp and that's Dave next to me.

If you want to hear the composer, Paul Nestor, play The Lost Banjo on his banjo, you can listen here. He plays it differently everytime so this is just one version. The harp version tries to be more harp friendly so it is a little different. http://www.youtube.com/watch?v=PZZiDjYW-ok&feature=youtu.be
Becky and Sharon playing harp on the boat.
Ordering information:
Please send $15 plus $4 shipping. Send your check and order to Thormahlen Harps, 1876 SW Brooklane, Corvallis, OR 97333. Or call us at 541-753-4334 for Visa, MasterCard or Discover purchases.
Here's Earl Newman working on the cover of Sunset on Seattle in February 2015. He used some pictures I took last September on our sailing trip in the Puget Sound (bottome of this page) plus a painting of a sailboat on the ocean done by Dave's grandfather's in the early 1900's, seen below, to come up with the cover.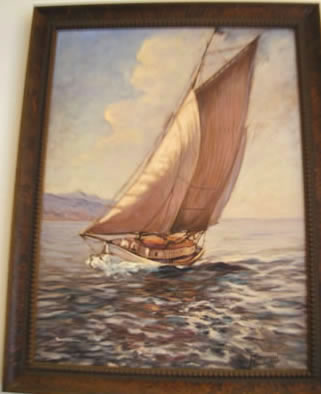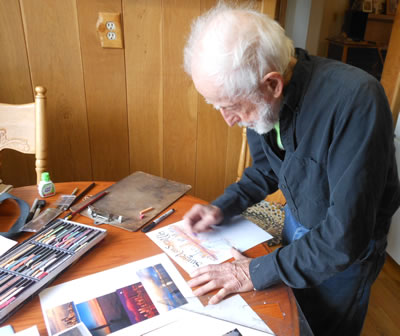 Here's the progression of Earl's artwork for this book. It's always so fun to watch the image evolve.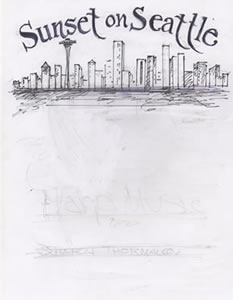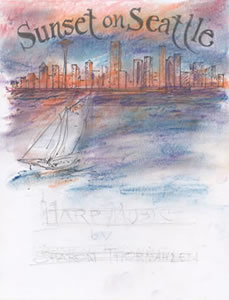 A Rose in Winter
The Singing Tree
Gossamer Gate
Sweepin' the Clouds Away
Dance Thru the Music
Where the Fingers Fall
Shalom
'Tis the Season
Waltz Upon a Time
Cabin Fever for Two
The Lone Egret
Moon Over the Mountain
Season's Greetings
Under the Double Rainbow
Fiddlin' Around on the Harp
Ordering information:
All of my books are available through Thormahlen Harps. For direct orders (not using Paypal), please send the listed price per songbook plus $4 shipping for 1 item, add $2 shipping for the next item and $1 for every additional item after that. Send your order to Thormahlen Harps, 1876 SW Brooklane, Corvallis, OR 97333. Or call us at 541-753-4334 for Visa, MasterCard or Discover purchases. Shipping costs are slightly different when ordering through Paypal.
For international sales, please email me.