Options for The Serenade 36 and Ceili 34 Harps
This page is a summary of the Serenade and Ceili options. You can read more about each option by clicking on the link at the left or above the picture of the option you're looking at.
Semi Staved Back ($200)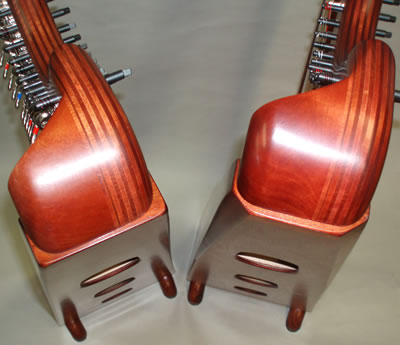 Here is a top view of the Basic (on the left) compared to the Semi Staved (on the right).
Maple Binding around the soundboard and/or back ($300-500)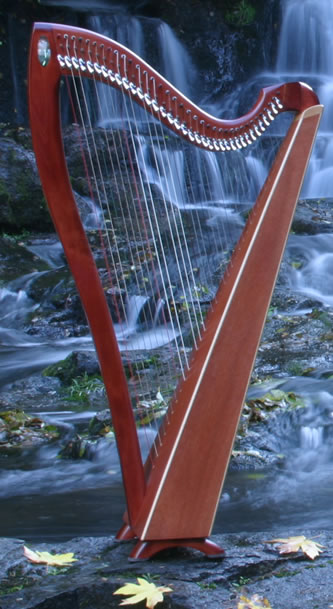 This Flatback Chestnut Serenade above has Maple binding (sometimes called trim) on the front and back. Other woods, such as koa, bubinga, cherry, walnut, and rosewood can also be used for trim work.
As a comparison, above is a Chestnut Ceili on the left without binding and on the right and with binding. The top block on the left is stained mahogany and the top block on the right is maple.
Taller feet ($200)
If you're on the taller side, you can raise up your harp with taller feet. The harp will fit in a Swan case so there is no need to remove the legs when you put it away and there's no extra charge for the Swan case. This is an option for the Cygnet harp as well.
Also notice the maple trim on the front and back in the photo of the black Serenade on the left.
The Black Pearl Serenade and Ceili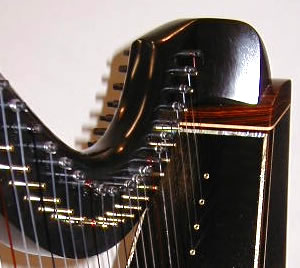 The Black Pearl comes with pearl inlay around the soundboard. It is also trimmed with Rosewood binding and has a Rosewood top block set off by a strip of maple binding.
See more of The Black Pearl Serenade
The Serenade harp evolved over 10 years starting with our Summit model back in 1996.
Go back to the Serenades