1. Basic model with and without the Semi Stave:
For starters, let's just look at a picture of the basic harp below. These Amber harps have no binding. The place where the edge of the soundboard meets the side makes a nice dark line and the grain of the top block usually makes the stain look a little darker. The top block is where the neck meets the soundbox. The harp on the right is a semi staved Ceili with no binding.
Semi Stave: $200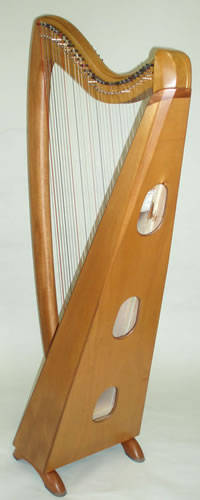 The picture on the left is a Basic Ceili with no trim, the picture on the right has the Semi Stave with no trim
2. Contrasting front binding and top block.
The contrasting binding gives the harp a more finished look. You can be creative with the kind of wood you'd like us to use (as long as we have some of that wood).
The front binding and top block: $300.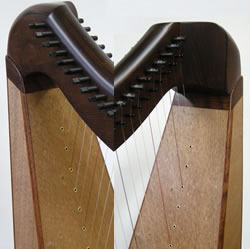 Chestnut harp with no trim and with maple trim and top block, Black harp with maple trim and top block, Blond harp with bubinga trim and top block
3. Contrasting back binding.
We have done many combinations of back binding from maple to Rosewood (as seen below) This would be done in addition to the binding down the front which also includes the contrasting top block.
Basic Binding down the back: $200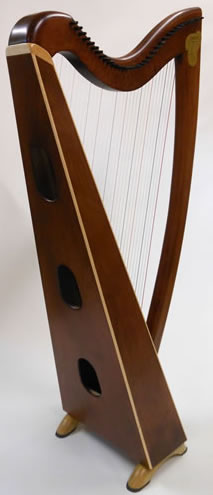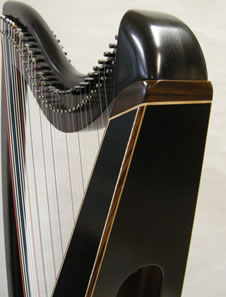 Chestnut w/maple trim ($200) and Black w/thin strips of maple and rosewood trim ($300)
4. Contrasting back binding with the Semi-stave
Using contrasting wood for the Semi-stave gives a very elegant look and adds extra interest to the design of the harp. Contasting Semi-Stave also includes the back binding.
This option is $400


Blond w/Bubinga trim and Chestnut neck and pillar; and Black w/Koa trim
5. Contrasting T-brace
This is the wood that can go down the front of the pillar. Because this is not stained, this gives you the option of any of our inlays as long as they aren't too wide.
Natural wood Pillar t-brace: $100

Black w/Koa t-brace and a Chestnut w/maple t-brace, Blond with walnut stained neck and pillar and a Walnut T-brace showing that the T-brace doesn't have to be contrasting, the Amber harp on the right has the standard stained T-brace
6. The 2 toned option with contrasting soundboard stain and front binding
In order to have a 2 toned harp, you must have front binding between the soundboard and the rest of the harp. Notice the detail of binding on the 2 soundboards in the middle. There is a little strip of bubinga on the Chestnut harp, and Rosewood on the black harp.
The 2 toned stain and the front binding is $500.

Walnut w/Chestnut (maple binding), Chestnut w/blond, Black w/blond, and black w/Chestnut (bubinga binding with small black strip between the binding and the soundboard)
We are willing to work with you on any combination you might think of. These are just examples of what we have already done. I'm sure the possibilities are endless. For more binding options: Binding
Also see the Clare